As an emerging leader, the road to professional success seems long and confusing. We experience the daily tension of being where we are with where we want to be. Particularly in a recovering economy, more young leaders are in jobs where they feel over-qualified and underpaid. It can be frustrating, but are we really as far off as we feel?
If you're like me, you can envision the perfect career in your mind, but you face the challenge of making it a reality. Or your frustration may come from not knowing what you want to do, but knowing you need something more than your current role. Figuring it all out can be perplexing, so it seems best to take the advice of those who have already experienced this. Realizing that I know plenty of accomplished leaders, I decided to reach out to a few of them to hear their story and gather some advice.
When choosing which leaders to contact, I knew I wanted to talk to leaders with various career paths. I determined the different perspectives would be helpful as I go through my own journey. With an entrepreneurial spirit, I wanted to talk to a young leader with a similar perspective, whose story defies the typical journey. Stanford Thompson, Founder & Artistic Director of PLAY ON, PHILLY!came to mind. Thompson started his own businesses as a kid, and as an adult, he recognized his passion for making an impact in his community. After playing as a professional trumpet player, he started the successful and rapidly growing organization at the age of 23. He founded PLAY ON, PHILLY! in 2011 and it has quickly grown to a million-dollar operation. Thompson's success is certainly impressive, but it didn't happen overnight. He assured me that it took a lot of hard work, stress, passion and thirteen months of pitching before becoming a reality.
While recognizing I am an entrepreneur, I'm not sure if I'm quite ready to start an organization. I wanted to talk to a leader that didn't start an organization, but was instrumental to its growth and success. Justine Nagan, Executive Director of Kartemquin Films, has a story that is equal parts ambition and patience. Initially, Nagan recognized her growing interest in media, but wasn't too sure how to transfer that into a career. Somewhere along her collegiate track, she discovered Kartemquin Films. She became very interested in its mission and hoped to work there one day. While in graduate school, a professor mentioned working at Kartemquin, and Nagan immediately jumped on the opportunity for connection. She started volunteering for Kartemquin Films and by 2005, had talked her way into getting hired full-time. When the organization started succession planning in 2007, Nagan entered herself into the search as a viable candidate. In 2008, after only working with the organization for 3 years, she assumed the role of Executive Director. Nagan became the leader of the small organization at a pivotal time in its growth, and has accomplished a lot in helping the organization reach new heights.
Lastly, I wanted to talk to a cultural leader that took the more traditional route. While I recognize my ambition and drive, I want to make sure that I am not hastily seeking out the next opportunity. I contacted Laurie Norton Moffatt, Director/CEO of the Norman Rockwell Museum. Her story exemplifies patience and diligence in pursuit of desired career goals. When she was fresh out of college, Norton Moffatt had no idea what she wanted to do. She started at the Rockwell Museum as a part-time docent, offering tours to patrons. Over the next eight years, Norton Moffatt assumed various roles at the museum, continuously working her way up the organizational ladder. When the current leader of the museum decided to step down, Norton Moffatt was the perfect person available for the job. She had been there the longest and was the most knowledgeable about the organization. Norton Moffatt became the Museum Director at age 29. Her commitment, diligence, and passion for the organization helped take it to the next level, which included purchasing a new building and growing the staff.
After speaking with the leaders, I recognized the valuable lessons each story offers. They all highlight the importance of evaluating your current needs and capabilities. Before considering the next step in our career paths, we should determine our tolerance for risk against your level of patience. Have you discovered a passion that you are ready to immediately utilize? Are you ambitious, but realize you are also fairly patient in seeking the perfect opportunity? Or are you patient enough to take as much time as necessary to figure out your interests? Where do you fall on this matrix?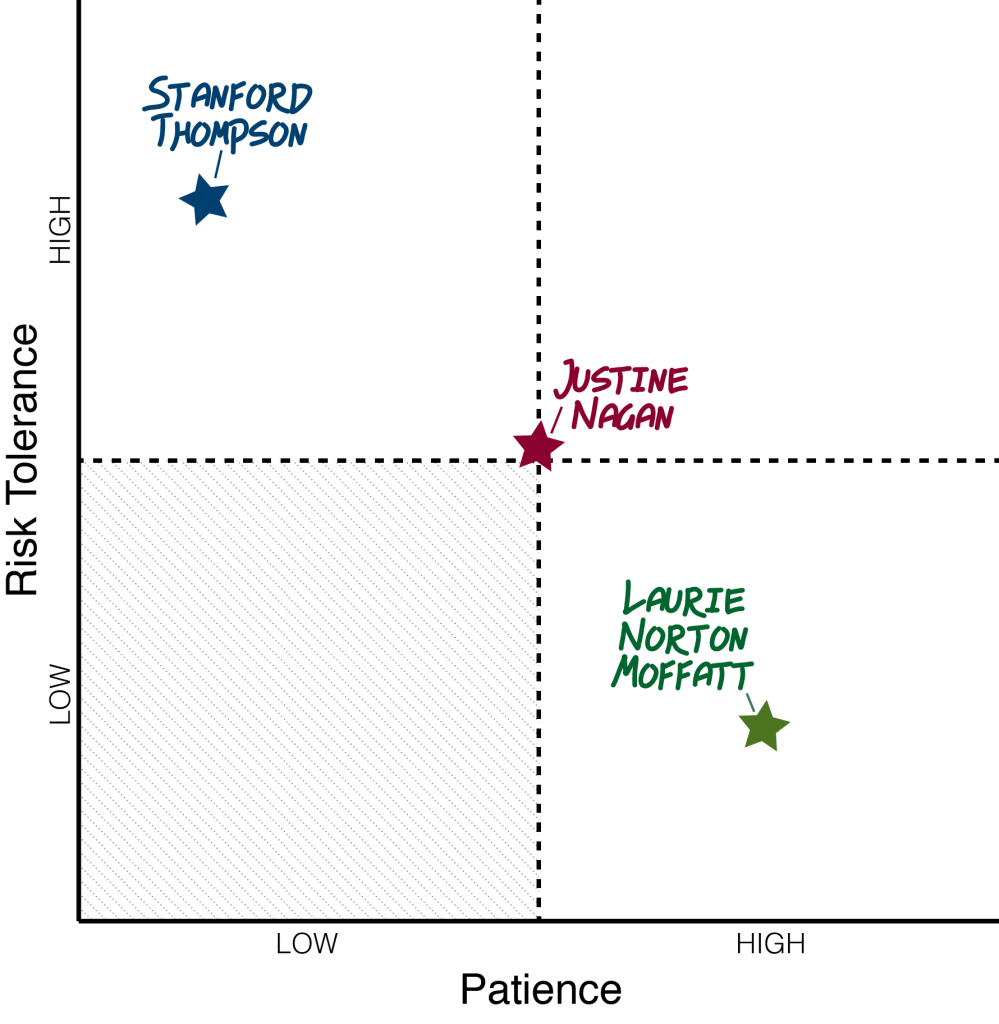 After this evaluation, there are some other things to consider. Your perspective and your comfort level are likely to change as you go on your journey. Even though he is very comfortable with risk, Thompson now talks about the importance developing some patience and discipline before you get too far ahead. While PLAY ON, PHILLY! is extremely successful, he said he wished he had started smaller, and recognized the significance of taking time and starting more organically. Thompson also stressed the importance of knowing when help is critical, and relying on the knowledge and experience of others.
While Nagan exhibited an equal mix of ambition and patience, much of her story was about timing. She found herself in a desirable situation that is probably not typical. Many arts nonprofits have little turnover, and are not at an organizational growth stage that offers opportunity for advancement. In that case, Nagan explains that finding the right organization is critical. She suggests that young leaders assess whether their current organizations offer the freedom for creativity and development. As an emerging leader, if you are not passionate about your work, or if you feel stuck or disposable, it may be time to leave and search for a new opportunity.
Norton Moffatt made a long-term investment in an organization and suggests that emerging leaders do the same. She says that young leaders should be open to starting at entry-level positions, and learning every aspect of the organization. These positions may not pay a lot, but it is an opportunity to gain a lot of experience. This also may require a lateral move for a few years, but that will help you become very knowledgeable in specific areas of the business. From Norton Moffatt's experience, knowing the organization deeply will help get a better job. A leader would much rather hire someone who is good and knowledgeable than to hire a new person and hope they will work out.
All three examples remind us of the importance of growing your network, constantly seeking mentorship and being a life-learner. You should always find ways to grow, connect, and learn new skills, even if your current situation isn't desirable. Taking a class or volunteering can add to your resume and give you new experiences to leverage while you are figuring out your next move. Always remember to allow yourself the time and freedom to figure out what you really want to do, instead of worrying about how much you'll make, what the title will be or what your colleagues are doing. Don't let external or internal pressures rush your professional process, because you may miss out on your life-changing moment. As Laurie Norton Moffatt said "find your passion and the rest will come."