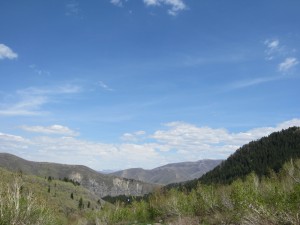 Editor's note: As part of our blog event for The Summit at Sundance, we have invited participants in The Chief Executive Program to frame each of our problems to solve. Here, Jean McLaughlin takes on the problem: Create the 21st century board.
What would an ideal 21st century board look like? And, how might board members best add value? These are the questions I have been pondering for the past few days.
In many ways I marvel at the productive, supportive, responsible and enthusiastic nature of the boards I have worked with. I know this harmony, successful relationship building and mutual respect doesn't happen without consideration and effort. It is the result of careful selection, role clarity, nurturing, assignments that fit skills and interests, thanking and a genuine concern for making the best use of everyone's time. Good problem-solving in meetings results from adequate preparation and research as well as from trust built upon time spent together in creative and social retreat.
At Penland School of Crafts we have an active Committee on Trustees that looks annually at governance, leadership, board assessment as a whole and individually, strategic thinking, former trustee engagement, etc., in addition to the nomination of new trustees and succession planning for strong board leadership. Aside from the skills we need, like good financial planning, investment oversight, legal guidance, physical plant/land management expertise and a deep commitment to education and the arts, other criteria for board membership become most essential—being able to listen, "play well with others" and to place the good of the whole above personal interest. Members have stepped down from the board when the spirit of participation lost its collegial good will.
We have governing responsibility documents, orientation session, lists of ways that trustees can be best engaged, committees that enable closer-to-the-ground work on behalf of the organization, board giving standards—all of which helps us to operate smoothly. Yet these mechanics alone could not yield the positive results we feel. Earnestness, humor, respect, acknowledgement of special efforts, joy, celebration of successes and kudos for risks taken can be infectious and inspiring. Taking the lead and following the lead as appropriate, making suggestions and embracing directions chosen, agreeing to disagree, committing to the success of the organization—these are essential qualities of an ideal board.
Years ago in my state agency work, we advocated to have artists at every decision-making table. One-third of Penland's trustees are artists, and their contributions of art are valued equally to cash contributions. Knowledge and skill is respected across the board with learning and teaching crossing unexpected boundaries. Diversity of race, gender, sexual orientation, geography and age are carefully balanced to reflect our culture and aspirations.
What do I see as needed that we don't yet have? A new challenge before us is advocating for the non-profit sector among legislators and those who elected them–people who do not understand the roles played and contributions made by the non-profit sector in our society and who have the power and the will to alter the sector. We have articulated the educational, job and economic impact of the arts for the past few decades, and now we find ourselves having to explain why we exist and how we differ from the for-profit sector. It seems more important than ever to have leadership positioned to affect public policy changes, the fundamental decisions being made that can adversely alter the services we provide. Rather than having well-informed non-partisan leadership, it seems important to have partisan leadership that models collaborative work for the good of community/society.
My primary responsibility as ED is to the mission–to the organization's financial and programmatic sustainability. It is also to direct the forward momentum of the organization—to set goals that are both a stretch and achievable–to plan effectively, guide, coach, question, advise, re-direct, respond, collaborate, support, remind, encourage and cheerfully cajole—to work with the board and through the staff.
More thoughts from the field
"An enduring nonprofit governance challenge: educating and motivating individual directors to dedicate time, allocate resources and thoughtfully experiment towards moving their organizations beyond the status quo and the pursuit of incremental changes. Meaningfully pursuing the representation, education and engagement of diverse populations (particularly younger generations) will be critical in meeting such challenge."
— Gene Takagi (NEO Law Group)
"The cultural economy is more dynamic, competitive, and fast-paced than ever.  The traditional way of handling strategic planning complete with retreats, standing committees, and extensive research and surveys, feels too slow and cumbersome in this new landscape.   How should nonprofit leaders approach strategy work in this climate?  I ask myself:  is it okay for the board to play less of a role?  Or how can I get board and stakeholder buy-in and still move quickly and make bold choices. "
— Eve Bridburg (Founder and Executive Director, Grub Street)
"Creating a board that is committed to the museum's mission; one that is engaged and generous; bridges a generation of more mature members with experience on local and/or national non-profit boards (preferably the cultural/museum sector), and younger members, who are participants in the currents that are shaping and transforming our community. Our board is intentionally developing youth leadership in recognition of the audiences— communities– our museum is, can, and will serve. We are shaping a board that is nimble in face of the dynamism of our times, yet sound enough to govern during challenging and dynamic times. Building a board that represents the diversity of our communities—both geographic and online– with a diversity of skills and interests needed to help advance the mission and vision of the institution. We are trying to ensure that there are clear expectations of board members, its committees—standing and ad hoc—and that of the director and that there is accountability at all levels. "
— Cathy Leff (Director, The Wolfsonian-Florida International University)
"As Bill Eddins articulated in his recent blog post on the ongoing strike at the Minnesota Orchestra, "If It's Broke, Don't Fix It," a key problem is lack of involvement or representation of key stakeholders of organizations in the governance process. Another would appear to be the enormous difficulty of intervening when a board is running afoul of its purpose. We have spent decades building exclusionary, professional, hierarchical institutions; perhaps it's time to start moving towards a "cooperative infrastructure" model (a term borrowed from Clay Shirky in his TED Talk "Institutions vs. Collaboration")  and sharing control of our institutions with artists, community members, and other stakeholders."
— Diane Ragsdale (Jumper)
How would you solve this problem? Add your ideas below!