Across the cultural field and around the globe, there are leaders thinking creatively about the biggest challenges facing organizations today – from increased competition among entertainment and cultural experiences to changes in consumer demands to shifting priorities of funders and stakeholders.
National Arts Strategies created The Chief Executive Program to help cultural leaders explore new ways to tackle these complex and critical challenges. Through this program, 50 leaders from around the world will take action and effect change in their organizations and in collaboration with an amazing network of peers. We are now accepting applications from those who wish to participate in The Chief Executive Program and join this community.


"The NAS Chief Executive Program is one of the highlights of my 45-year professional life. The unique combination of content, relationships and a supportive, contemplative environment is reflected in my strategic plan, operating processes and leadership of cultural institutions in Denver."
George Sparks, President & CEO, Denver Museum of Nature & Science


Explore. Reflect. Apply. Share.
The Chief Executive Program is built around learning cycles of exploration, reflection, application and sharing and includes three in-person events and a variety of "at-work" activities designed to help leaders move forward on their own unique objectives and goals. These events and activities are designed to give participants a deeper understanding of the strategic challenges they face, a firm grasp of change leadership and the ability to translate your visions for the future into reality.

Selection
This program is for chief executives who are curious, open, willing and eager to invest in this learning community and devote the necessary time to program activities and relationships. We are looking for leaders who want to explore and implement innovative solutions rather than maintain the status quo. Through a competitive selection process, we will identify 50 cultural executives from a wide range of art and cultural forms, locations and perspectives to participate in this 18-month program. All participants of The Chief Executive Program will receive a fellowship covering the full cost of tuition. Participants will be responsible for their own travel costs to in-person events.
How can you take part?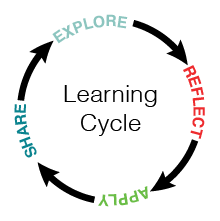 Explore The Chief Executive Program website to learn more »
Reflect: is this the right program for you?

Apply to participate by July 15 »
Share: Let other leaders who would benefit from participating in this community know about The Chief Executive Program!
The development of this program was made possible by the support of The Andrew W. Mellon Foundation, the Fidelity Foundation and The Kresge Foundation.