Bringing People Together to Improve the Place They Love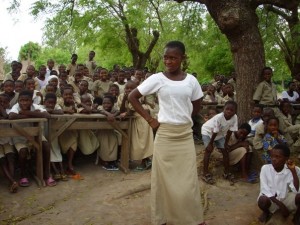 Before coming to National Arts Strategies, my office was a shady spot under a mango tree in the front yard of my compound in Ati Atovou, Togo.   Days in Ati-Atovou passed mostly in the same manner as they do in my DC neighborhood: people wake, do good work, laugh with the people they love and nourish their bodies with favorite local dishes.
When I made the decision to spend over two years in Togo as a Peace Corps volunteer, I was worried that I was turning my back on a career in the arts that I was so passionate about.  What could Togo offer me in terms of theatres to perform in, museums to visit and events to produce?  However, making this move gave me a valuable perspective on the role of arts in society and taught me what the arts could do to foster community pride and cohesiveness.  The arts are not accessed through a box office or the doors of a symphony hall in Togo, but rather are encountered in the business of everyday life.  I was welcomed to the village with a festival in which half of the residents sang, danced, or played an instrument.  A group of women I worked with acted out messages about wellness they wanted to share with their peers.  The men in the village played drums to celebrate, mourn or mark a special occasion.  When I said goodbye, I danced and sang along with them.  In the end, living in Ati-Atovou taught me to think beyond institutions and look at how the arts can be integrated into the fabric of community life.  Far away from Togo, in a different culture but one whose citizens who have similar goals of health, freedom, safety and happiness, the arts can have the same impact of bringing local people together to improve the place they love.
Comments
Next
Prev